The top 2023 wedding trends for Scottish brides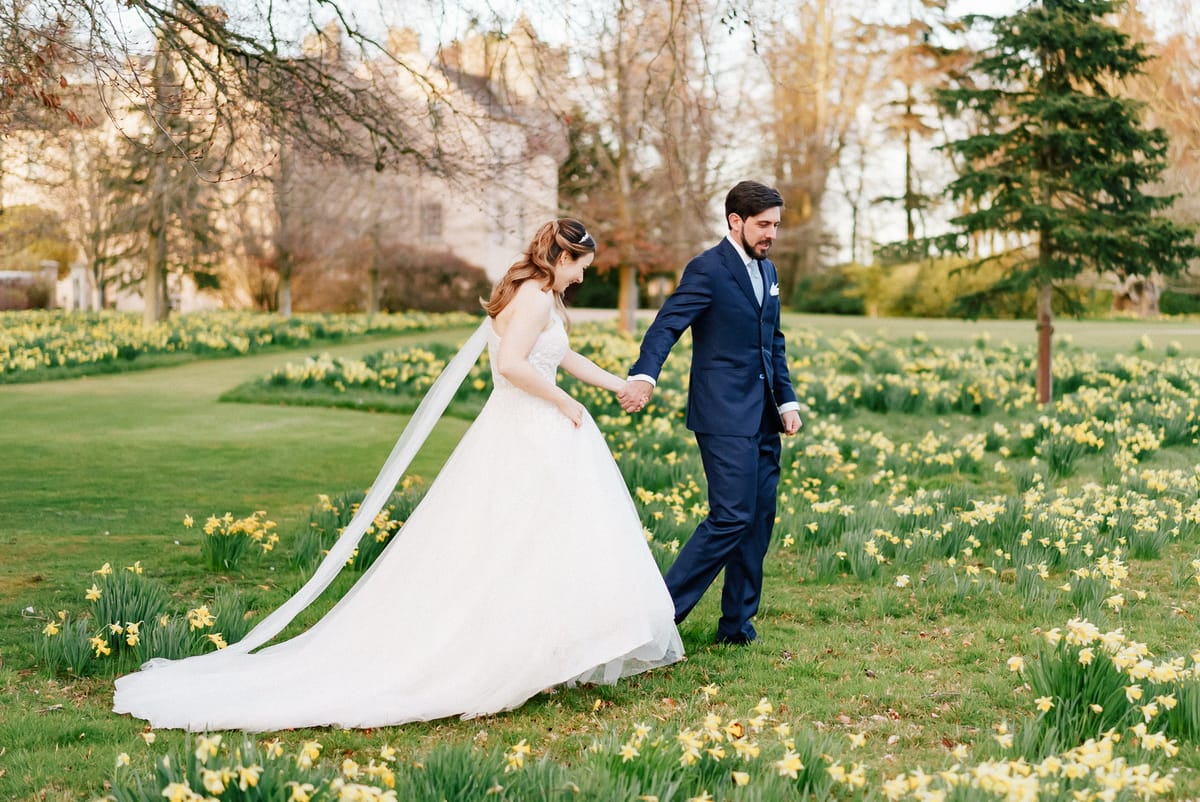 Written by Julia Gallacher
Creative Copywriter & Stationery Designer at Highland Fables
Whether you're a trendsetter or avid follower, knowing what's hot now is always good. You may find inspiration in the unusual or see what you definitely do not want. Just remember that your wedding should be a reflection of you as a couple.
With that said, here are the three most irresistible wedding trends for Scottish brides (and grooms) in 2023!
It's all about you
2023 weddings are all about intimate celebrations of you as a couple. If COVID has taught us one thing, it's to cherish our nearest and dearest. Celebrate with those closest to you and take advantage of opening up heaps more wedding venues with your smaller numbers.
Another advantage of a more intimate wedding is that it tends to cost less, so you can go all out with your theme, decorations, and your food! Imagine a delicious menu made up of the finest local Scottish produce, cooked just for you and your loved ones.
An intimate wedding also means you don't need to spend all night trying to somehow speak to every single person. Usually, that type of thing results in having not a single real conversation at all.
So it's intimate weddings for the win, for all of the above reasons and more. No more inviting that aunt you've only seen once when you were three, or that random co-worker you only say hello to in the lift anyway. Phew!
It's all about being sustainable
More and more couples are putting sustainability high on their list. In fact, an early 2020s survey showed that as many as 98% of couples care about their wedding being eco-friendly.
Best of all, having an eco-friendly, green wedding celebration isn't pricier or harder to achieve. Many venues now offer recycling and sustainable values of their own. You can recycle and upcycle decorations and even clothes for your big day.
Charity shops are a great place to start your search: Think mismatched, quirky dinnerware and candle holders. These will cost you a fraction of the price of new items. And you can re-donate or gift them once you're done, so it's a big win-win!
Eco-friendly, sustainable weddings are every bit as glamorous as weddings of yore. They just allow for more options to get creative and handmadke things, as well as more natural venues.
It's all about colour
Colourful weddings are on the rise in 2023. Gone are the days of brides choosing muted, 'elegant' colour schemes. 'In' are beautifully balanced colour schemes that look every bit as luxurious!
Burnt orange tones, magenta, deep greens, and even sunny yellows are all great. Deep blues make for a great vintage-style wedding colour scheme that'll allow you to find lots of great chinaware.
The main message with 2023 colour schemes is the same as everything above — your wedding should be unique and all about things you like.
Your colour scheme, as much as everything else, should really represent you as a couple. Colourful touches can represent your cultures, your favourite shades, or a special theme.
2023 trends to make your wedding extra special
This year's wedding trends are all about being intimate, sustainable, and colourful. The main message to take away is that your wedding should represent who you are as a couple. Conform to the trends or don't — whatever you choose, if your wedding is just 'so you', you've done it right.
Of course, you should also ensure that all those magical touches are captured by a talented documentary photographer. That way you can look back on the trends you followed – or didn't — and perhaps even those you set!