Edinburgh Castle Fairytale Weddings
Edinburgh Castle is the venue if you're looking for an iconic place for your royal wedding. The castle can host both micro weddings and grand celebrations with up to 170 guests. This luxury wedding venue is steeped in history and perfect for a romantic Scottish wedding fit for royalty.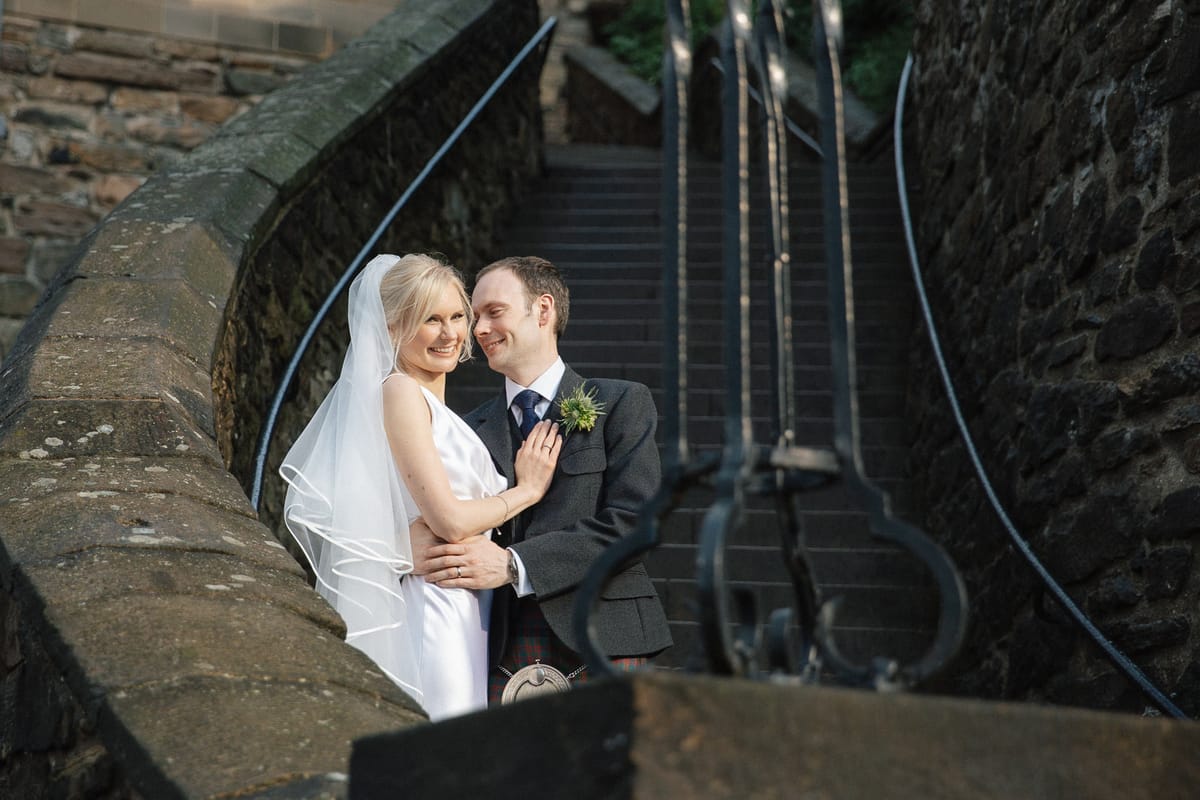 What location could be more iconic and more quintessentially Scottish than Edinburgh Castle? Protruding from the natural rock upon which it was built and historically unparalleled in importance, it's the perfect venue for Scotland lovers and history buffs.
Royal weddings at historical Edinburgh Castle
Amidst this history is the daring re-capture of Edinburgh Castle by Robert the Bruce's men, who scaled the rockface barehanded (there were no ropes or harnesses in the 1300s.) It's an iconic place steeped in stories and romance.
A romantic venue that's perfect for international weddings
You have several flexible places within the castle where you may say your vows. Edinburgh Castle is a unique option for international weddings wanting to showcase the heart of Scotland and Scottish history. Pair this venue with some local food and a ceilidh for the evening entertainment, and you've got a winning combination.
There are plenty of other historic places near the castle, and it's perfect if your guests wish to explore the capital's Old Town. If you're looking to showcase Scottish history in all its splendour, this is the perfect venue for your wedding.
Edinburgh Castle wedding cost, capacity, and more
Edinburgh Castle is located in the centre of Edinburgh. You can celebrate with up to 120 ceremony guests or have a micro-wedding in Edinburgh Castle's minuscule chapel, the city's oldest building. Evening receptions will host up to 170 people. Edinburgh Castle is not an exclusive hire venue, though the individual ballrooms are. Prices start at £9,000 for one night's use. It's expensive, but you get one of the country's most iconic venues for it.
What makes Edinburgh Castle a unique wedding venue in Scotland?
It's Edinburgh Castle, need I say more? There are plenty of iconic spots at Edinburgh Castle, but I love the Jacobite room with its unusual ceiling. Obviously any photographs with the castle behind you are a must, as it's an instantly recognisable place for both locals and international fans of this beautiful country.
Besides the obvious photo opportunities, it's a romantic place steeped in history and well-loved across the world. It's the perfect wedding venue for both history fans and those seeking a royal wedding.