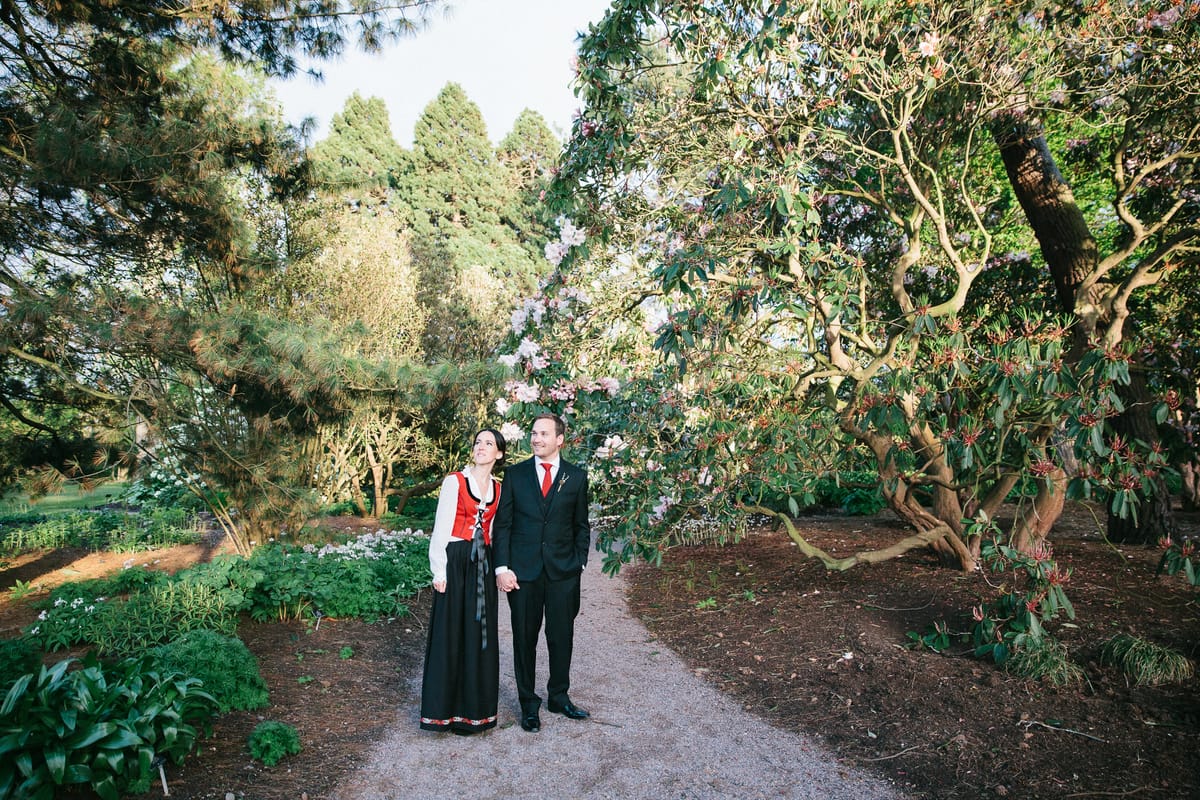 Royal Botanic Garden Wedding Edinburgh
Isa and Colin's big day was as much a Norwegian wedding as a Scottish wedding.
Isa and Colin's Edinburgh Botanic Gardens wedding was as much a Norwegian wedding as a Scottish wedding. Norwegian traditions from Isa's side influenced the Botanic Garden wedding and appeared in the details from the bridal dress to the venue decorations. The whole wedding was kept natural and close to nature, the way Isa and Colin like it. They didn't want something spectacular, they wanted to commit to each other and spend this memorable day with loved ones around.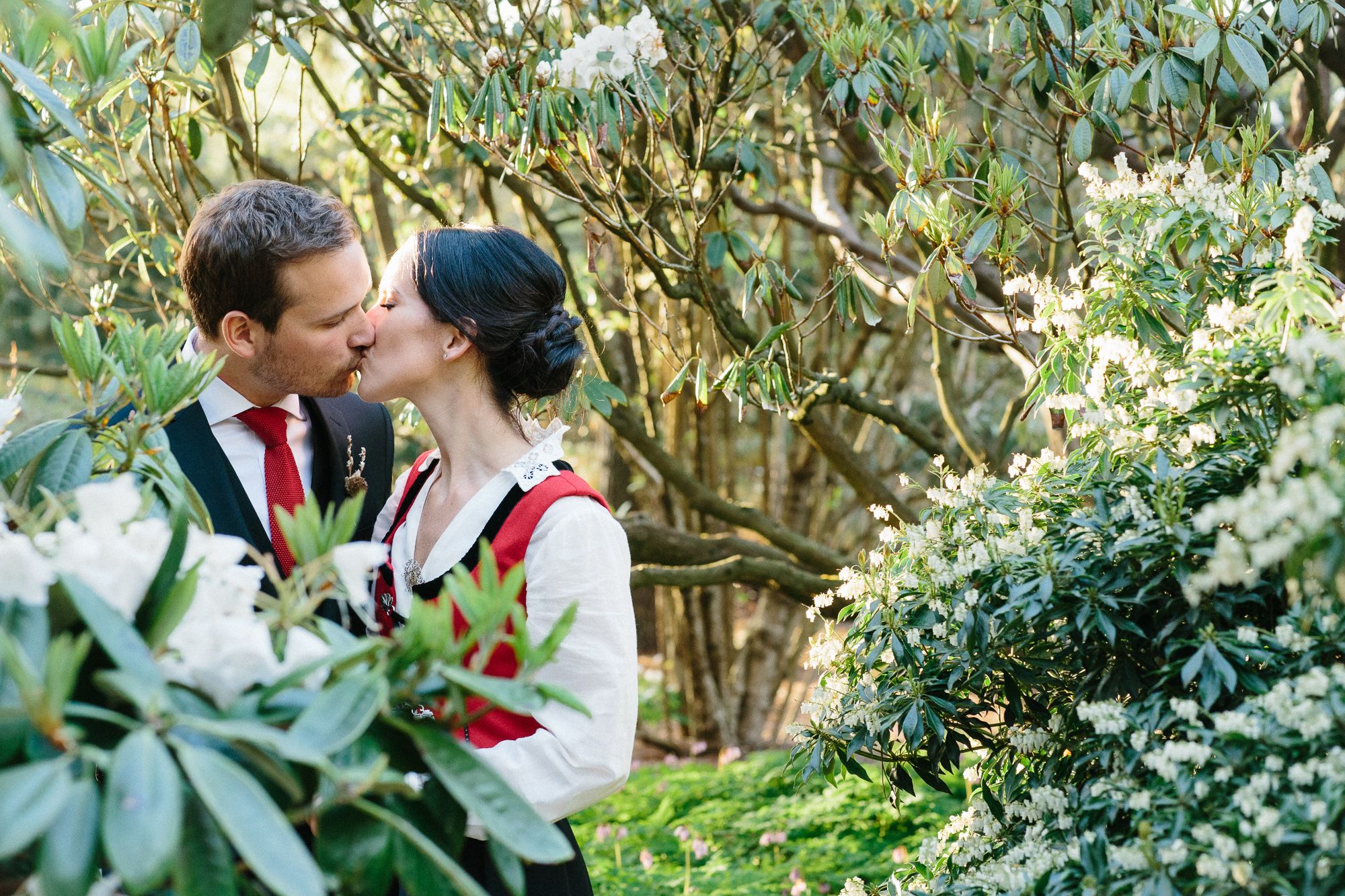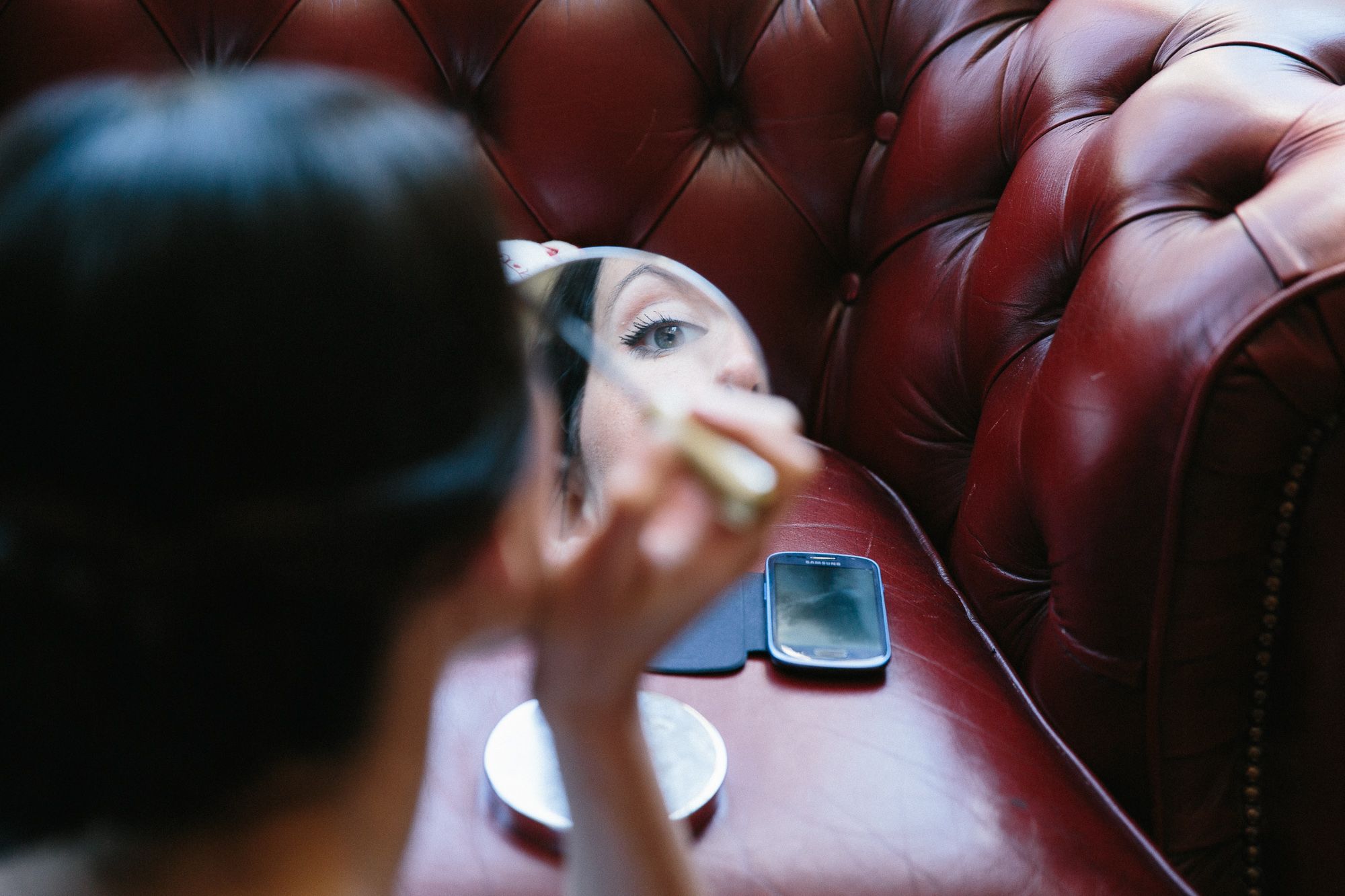 Bridal and groom reparations for the Botanic Garden wedding took place in two separate flats in Stockbridge, Edinburgh. The day started promisingly with clear skies and beautiful sunshine. The preparations went in a relaxed atmosphere. I walked between the two flats to take photos of both Isa and Colin getting ready in the company of their parents and best friends; Alison, Isa's bridesmaid and Alan, Colin's best man. The wedding dress and the jewellery were all traditional Norwegian, very unusual from what we are used to here in the UK.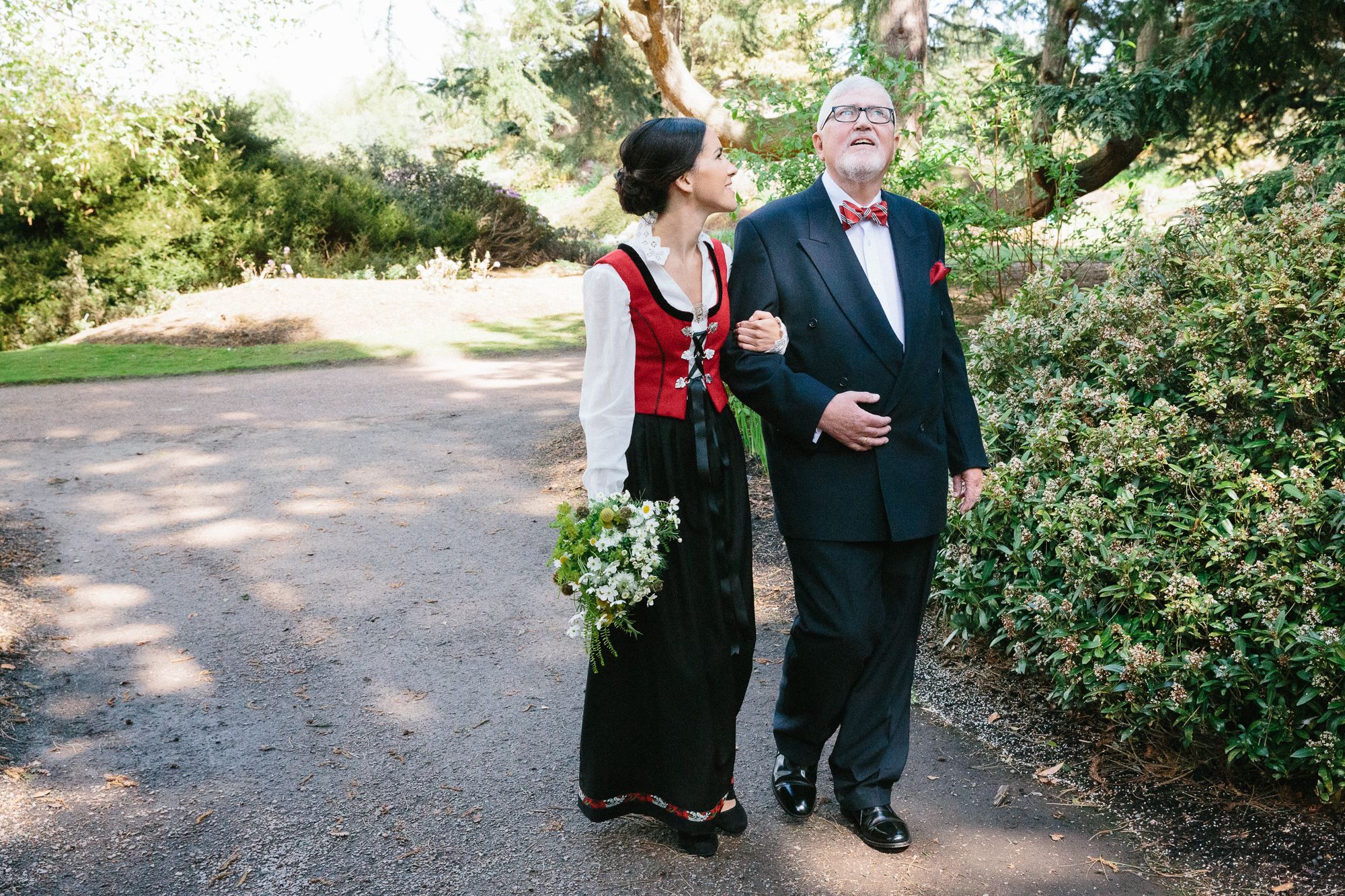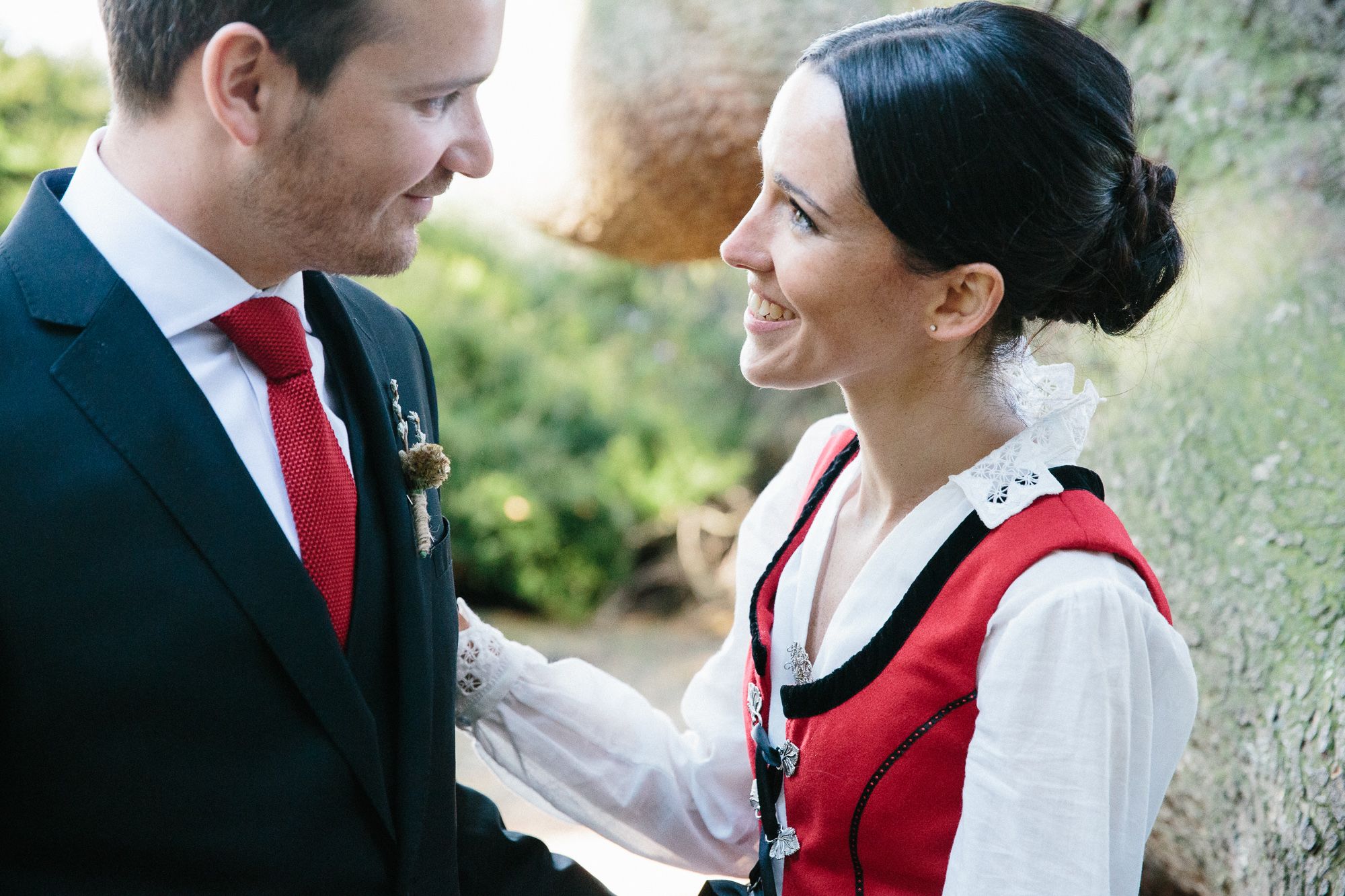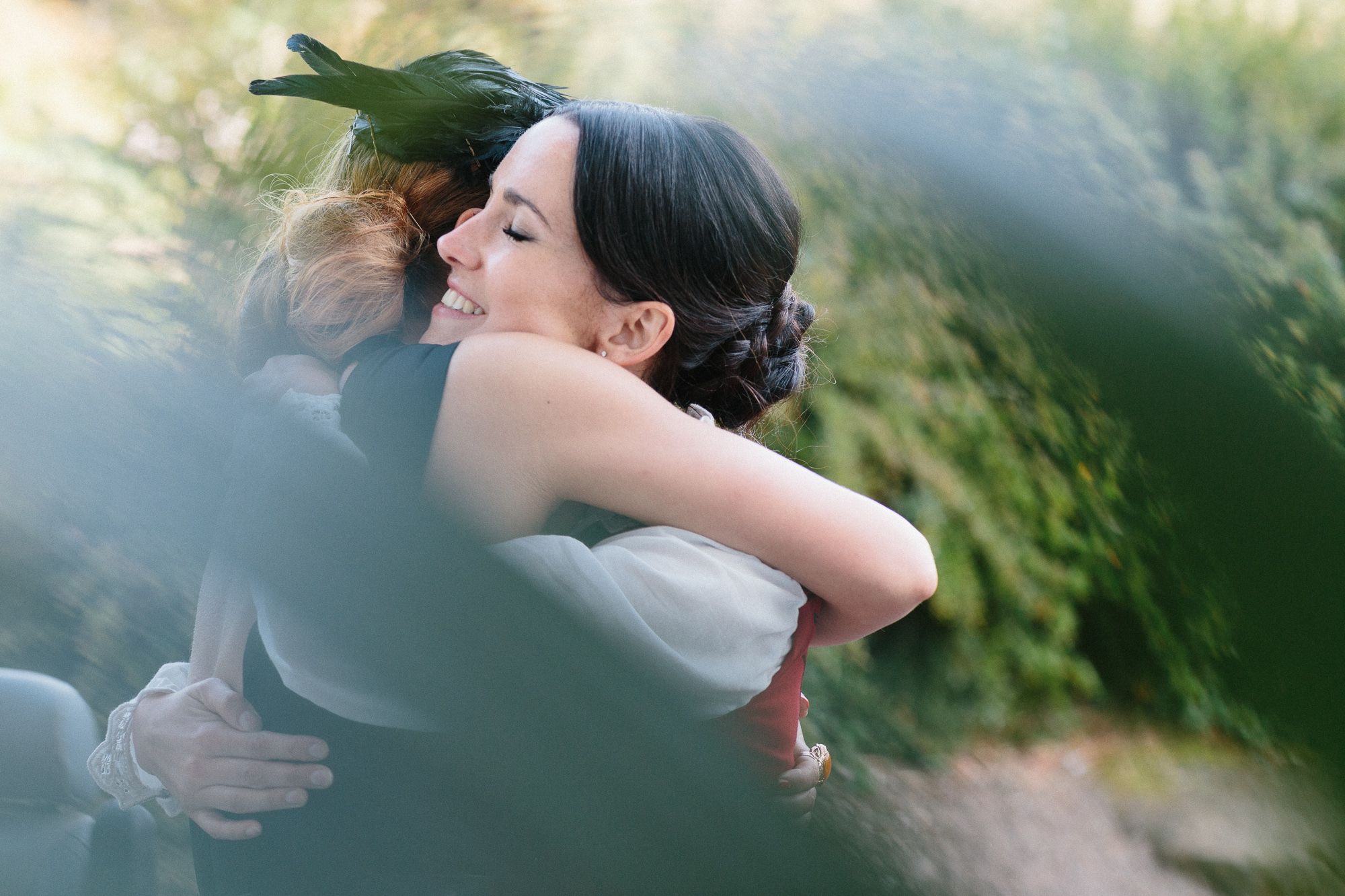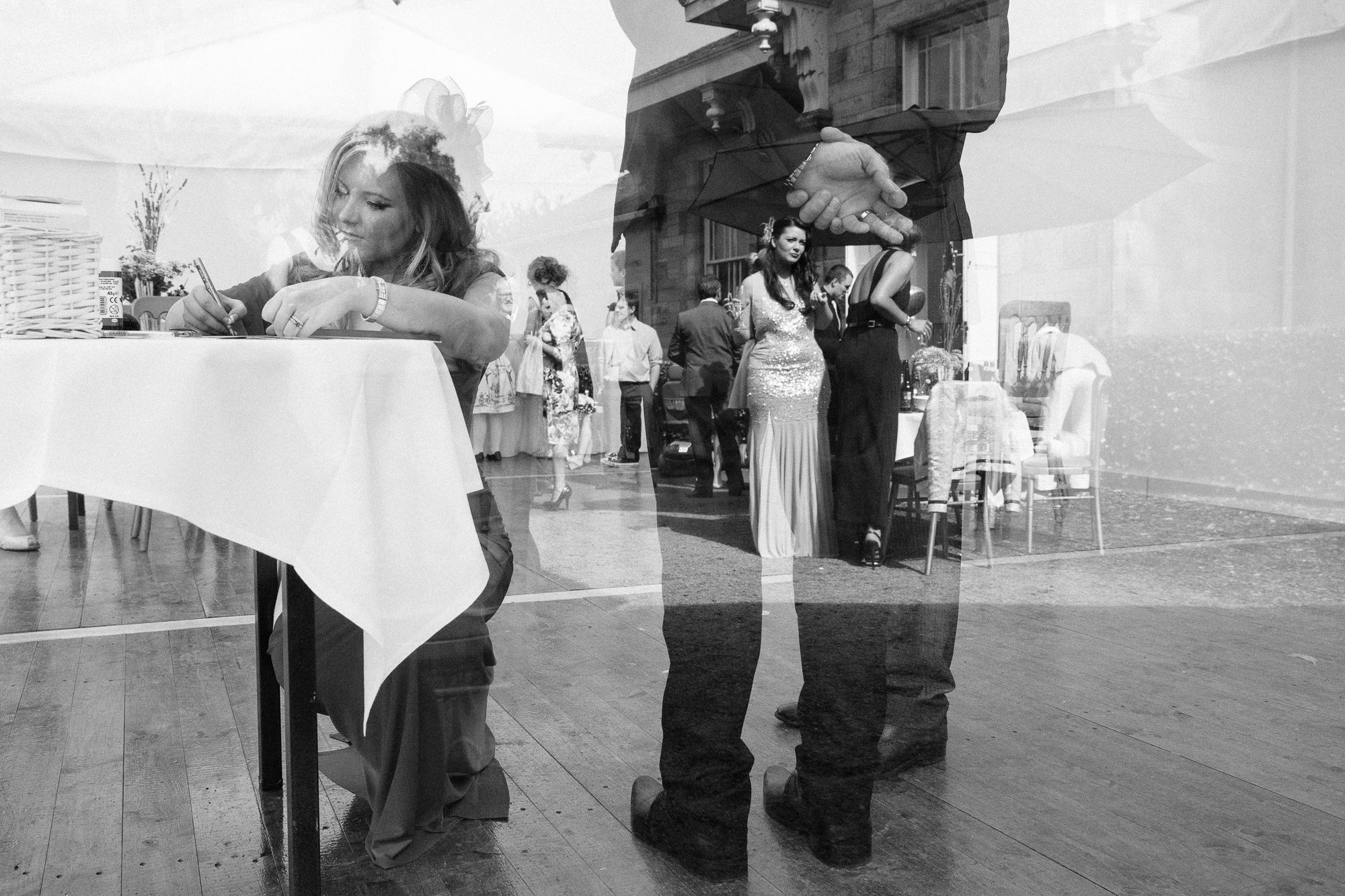 The Caledonian Hall as one of the Royal Botanic Garden wedding venues works perfectly for those who like nearness to nature. Weather you have a dedicated wedding planner or you organise the wedding yourself like Isa and Colin, the Botanic Gardens offer the ideal backdrop for your wedding photos. The hall was prepared by family members and wedding guests, who put lots of love into it the decoration by using handmade and all-natural materials.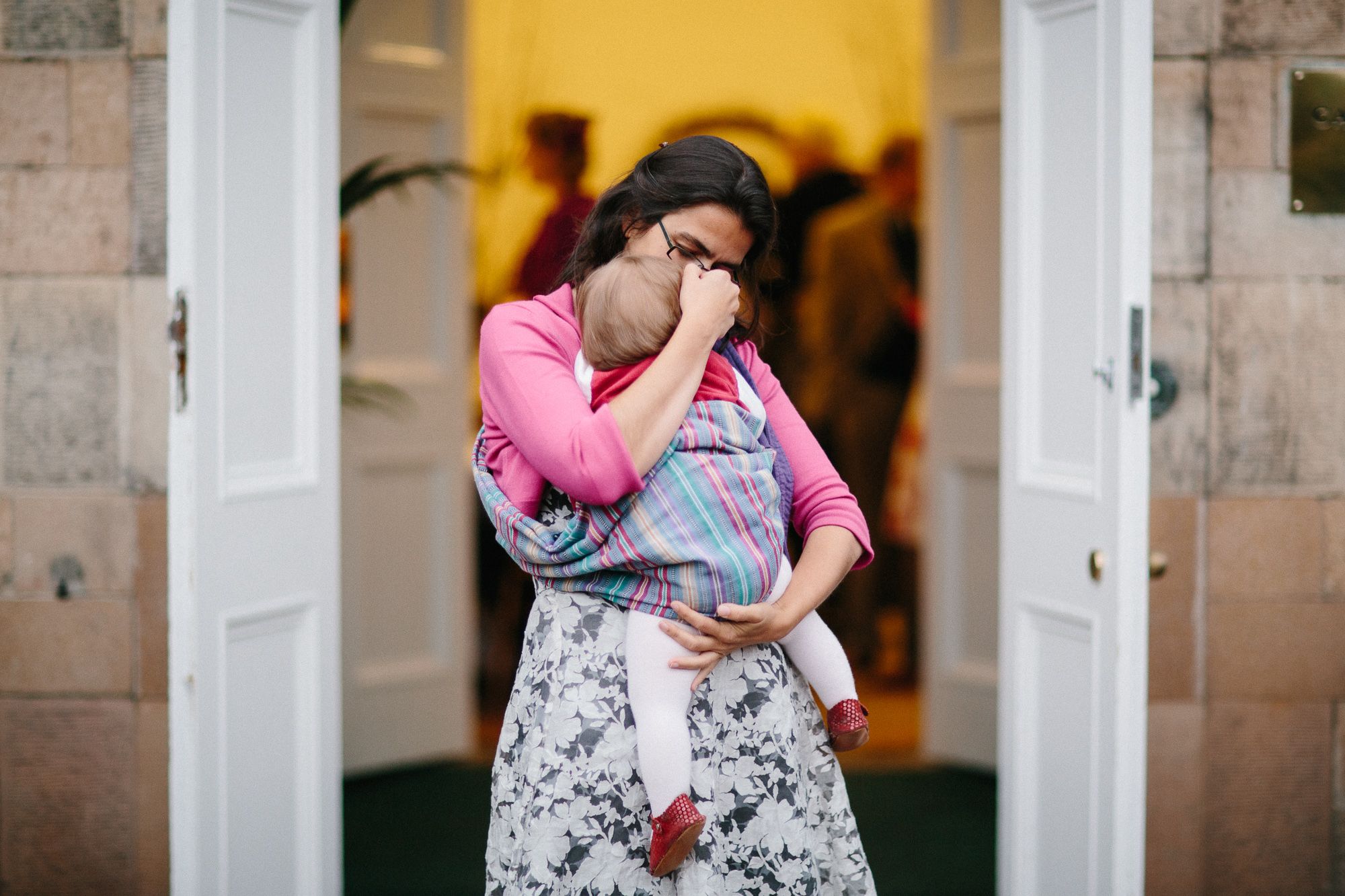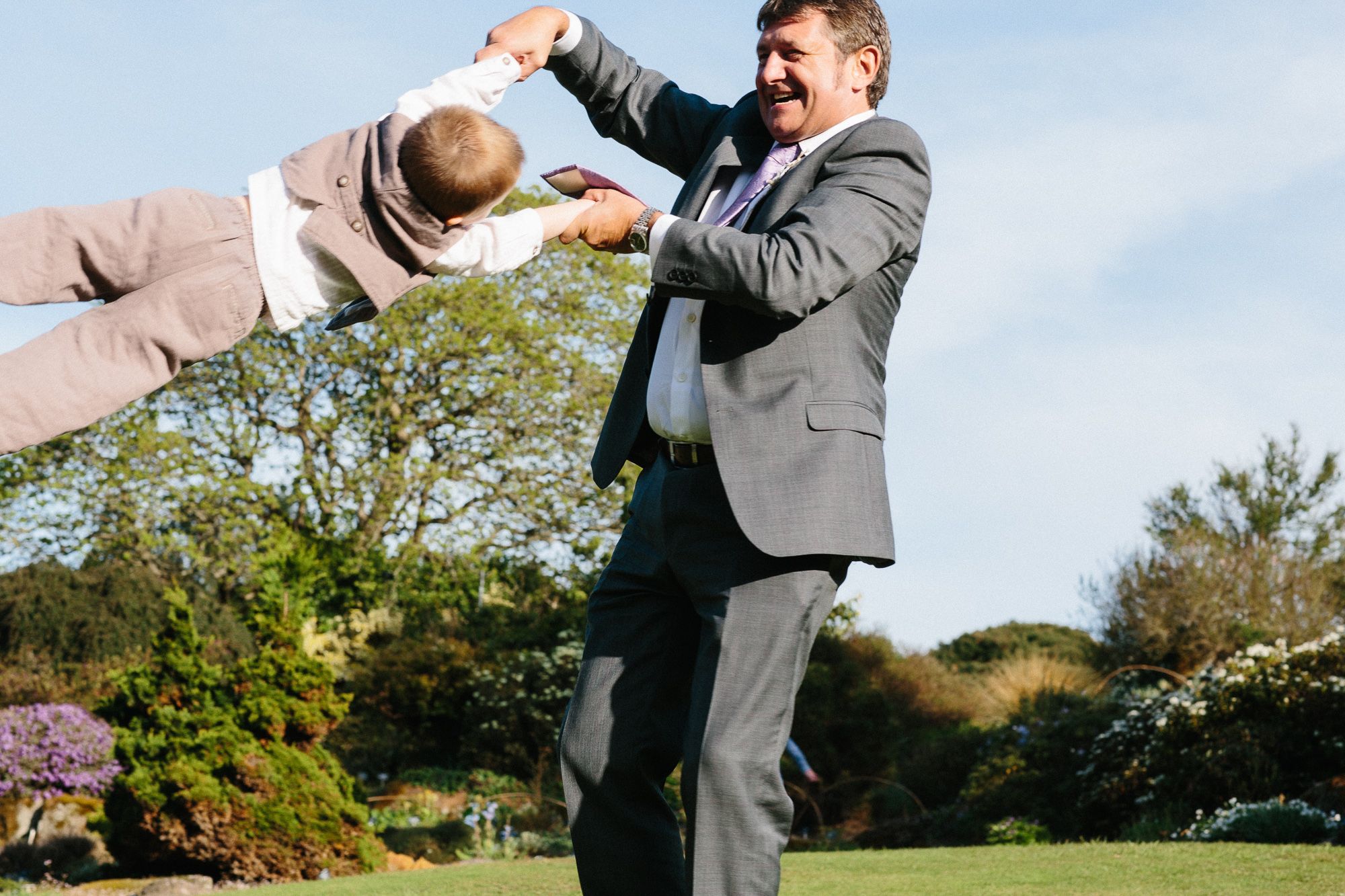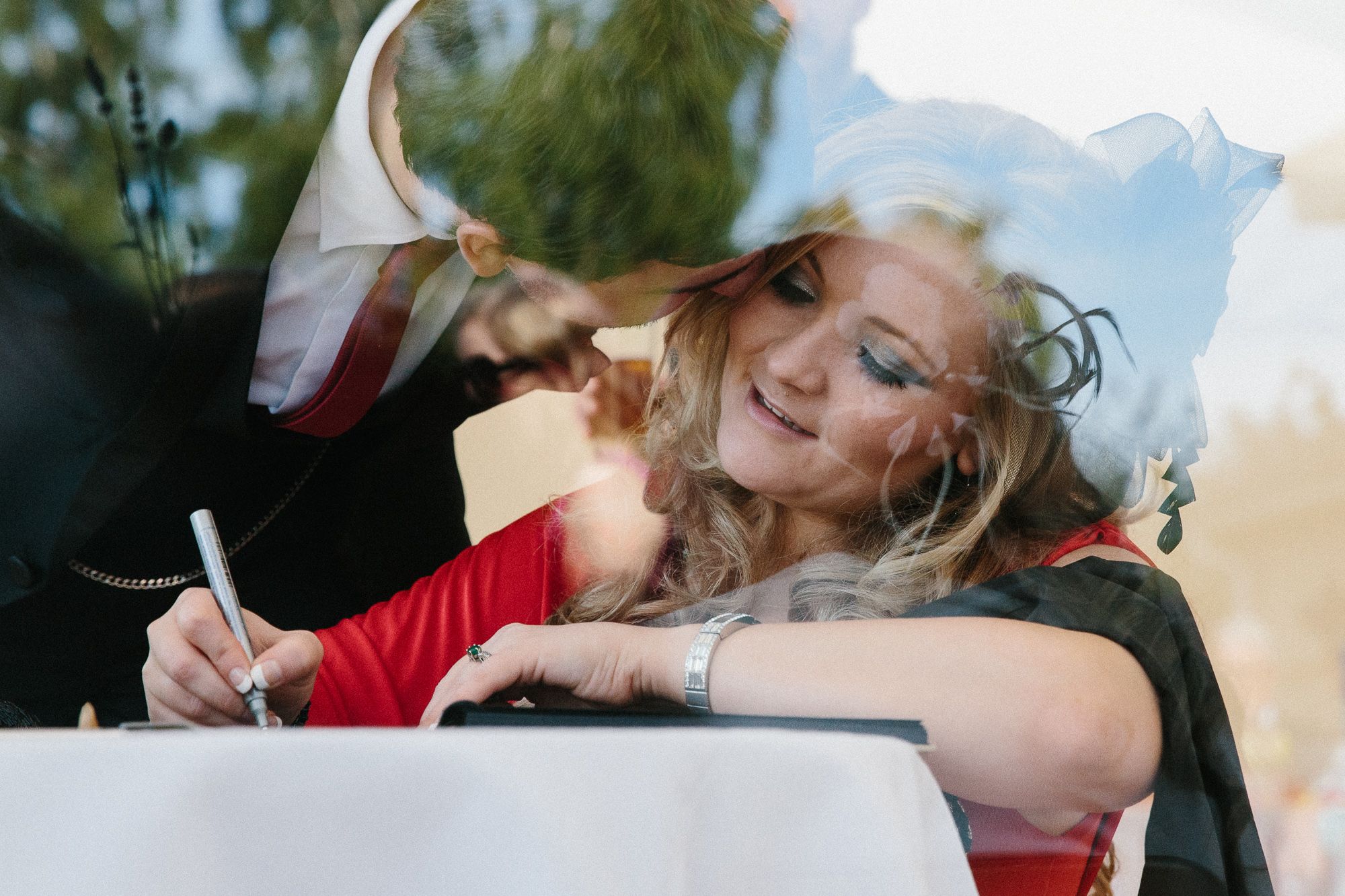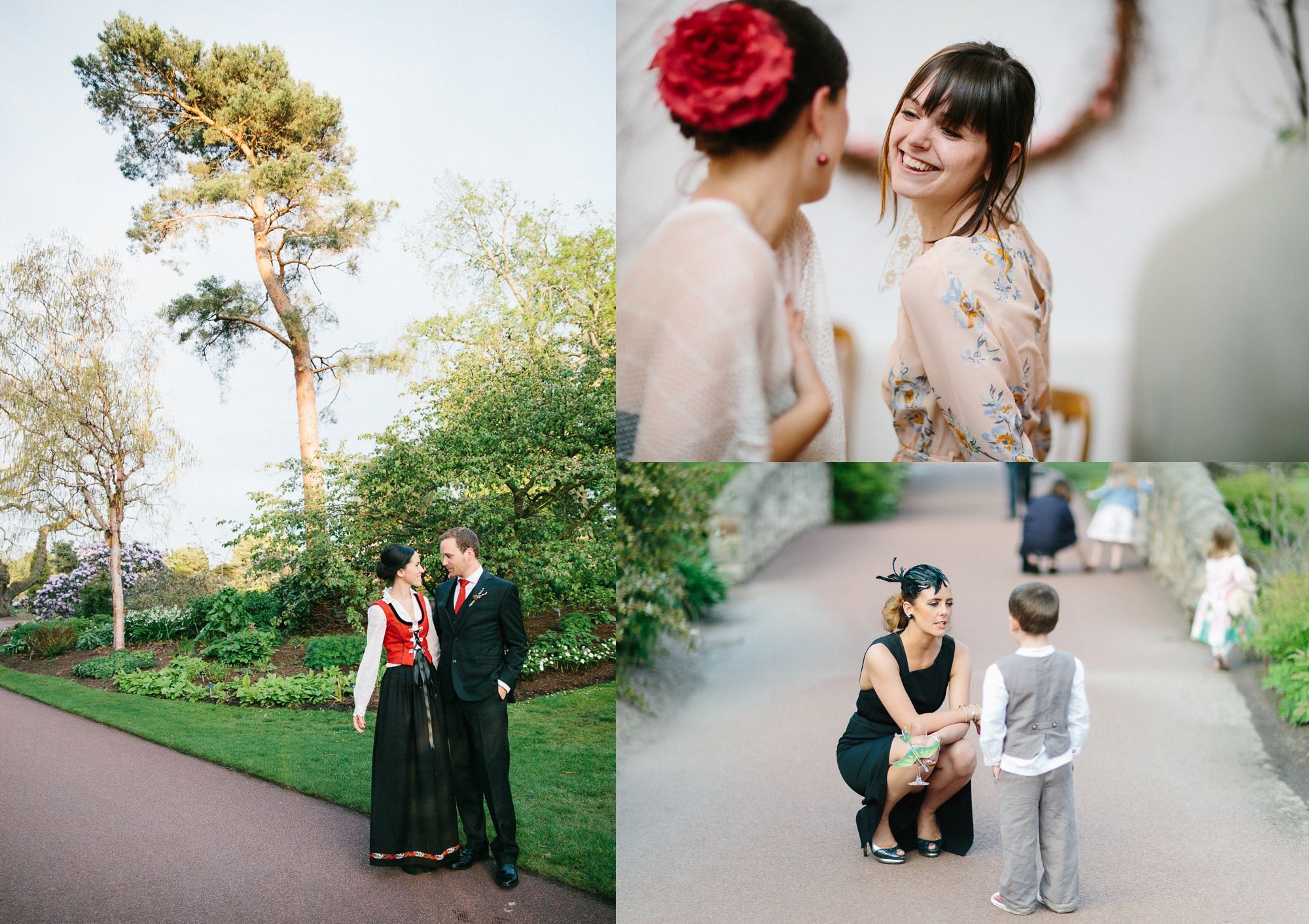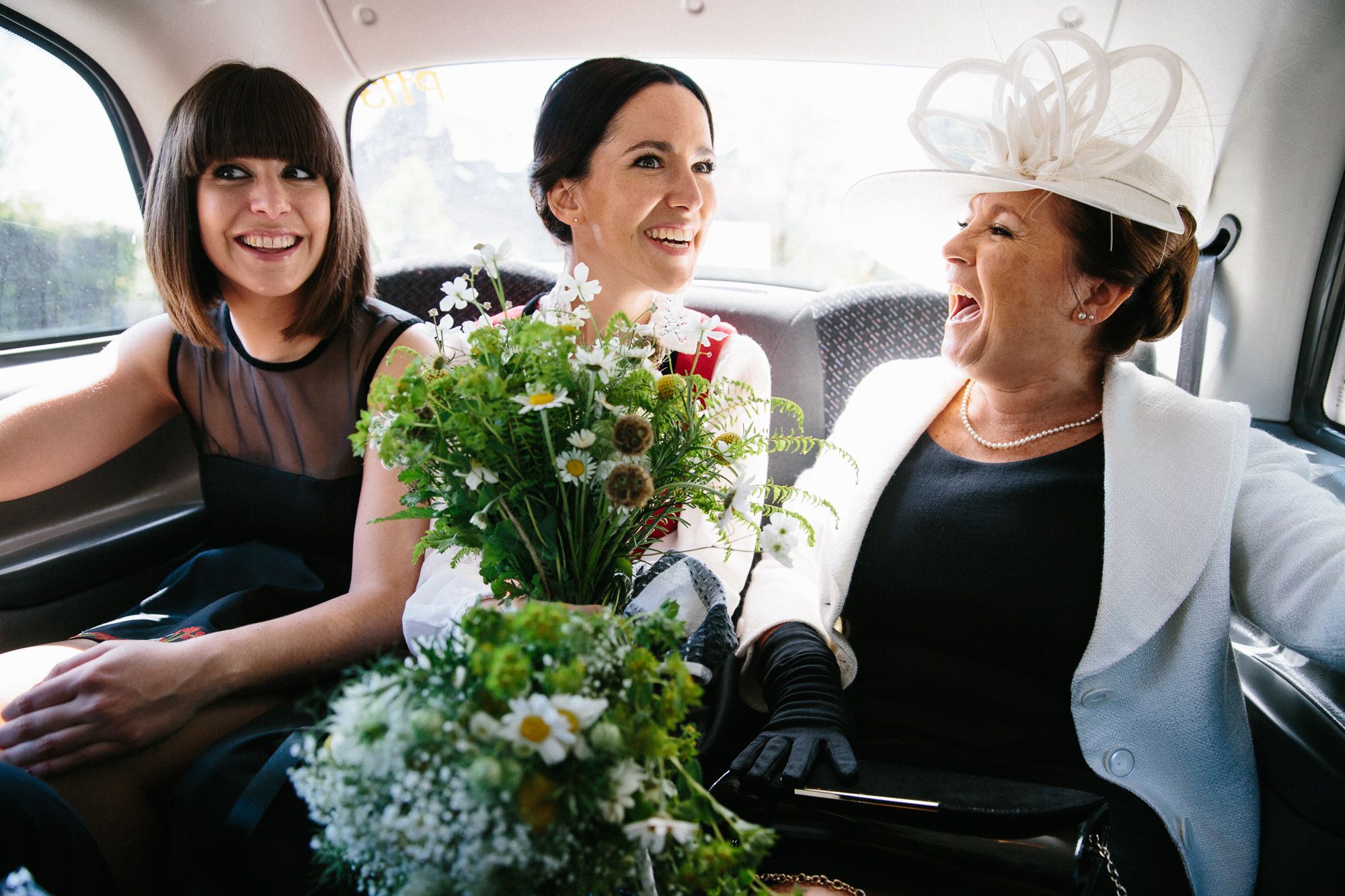 Lots of fresh, colourful flowers, photos in wooden frames, linen bands with Norwegian patterns on glasses, little Norwegian flags, wildflower seeds wrapped in linen sachets as gifts to the guests to take away and sow in their garden to remember the day.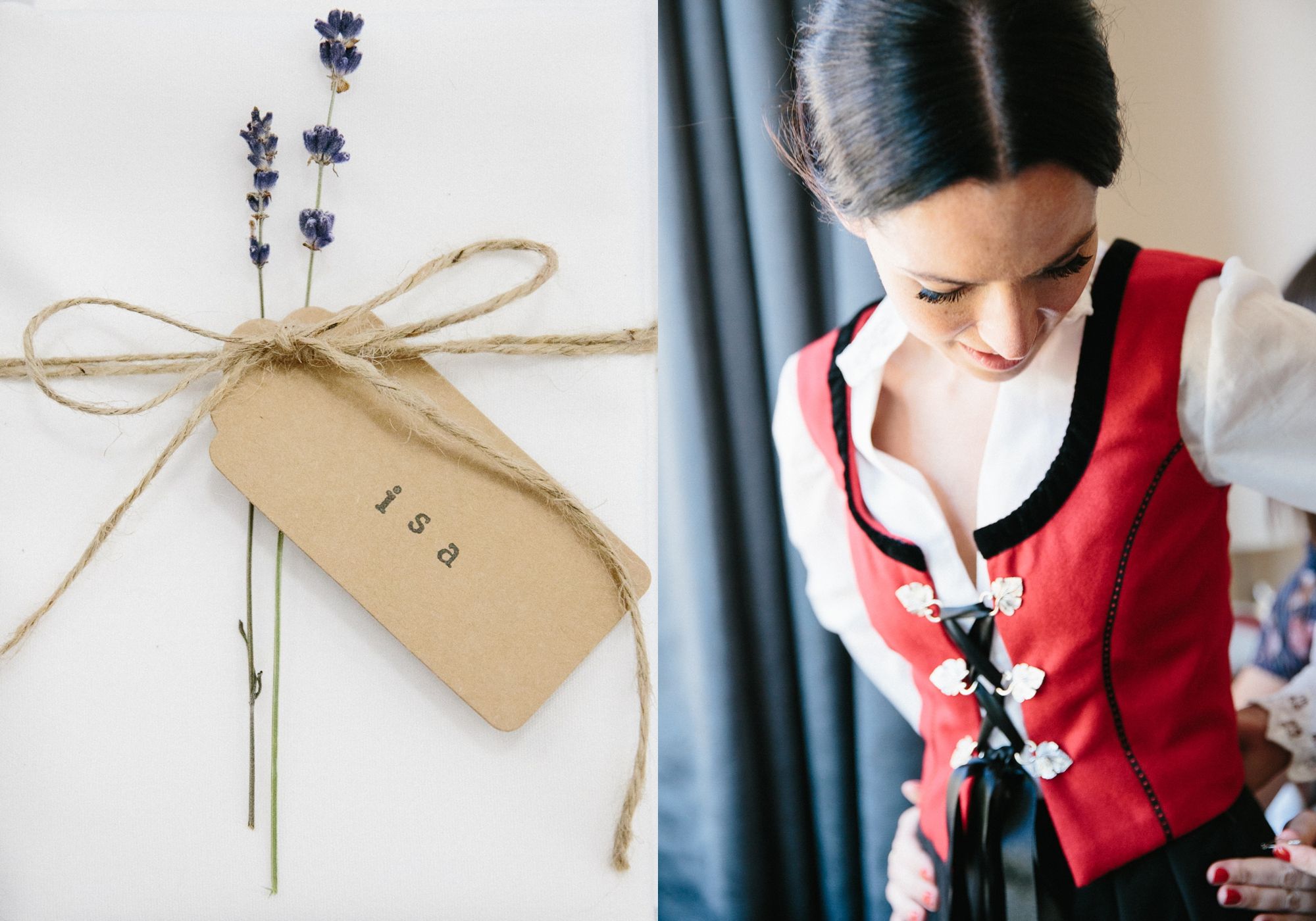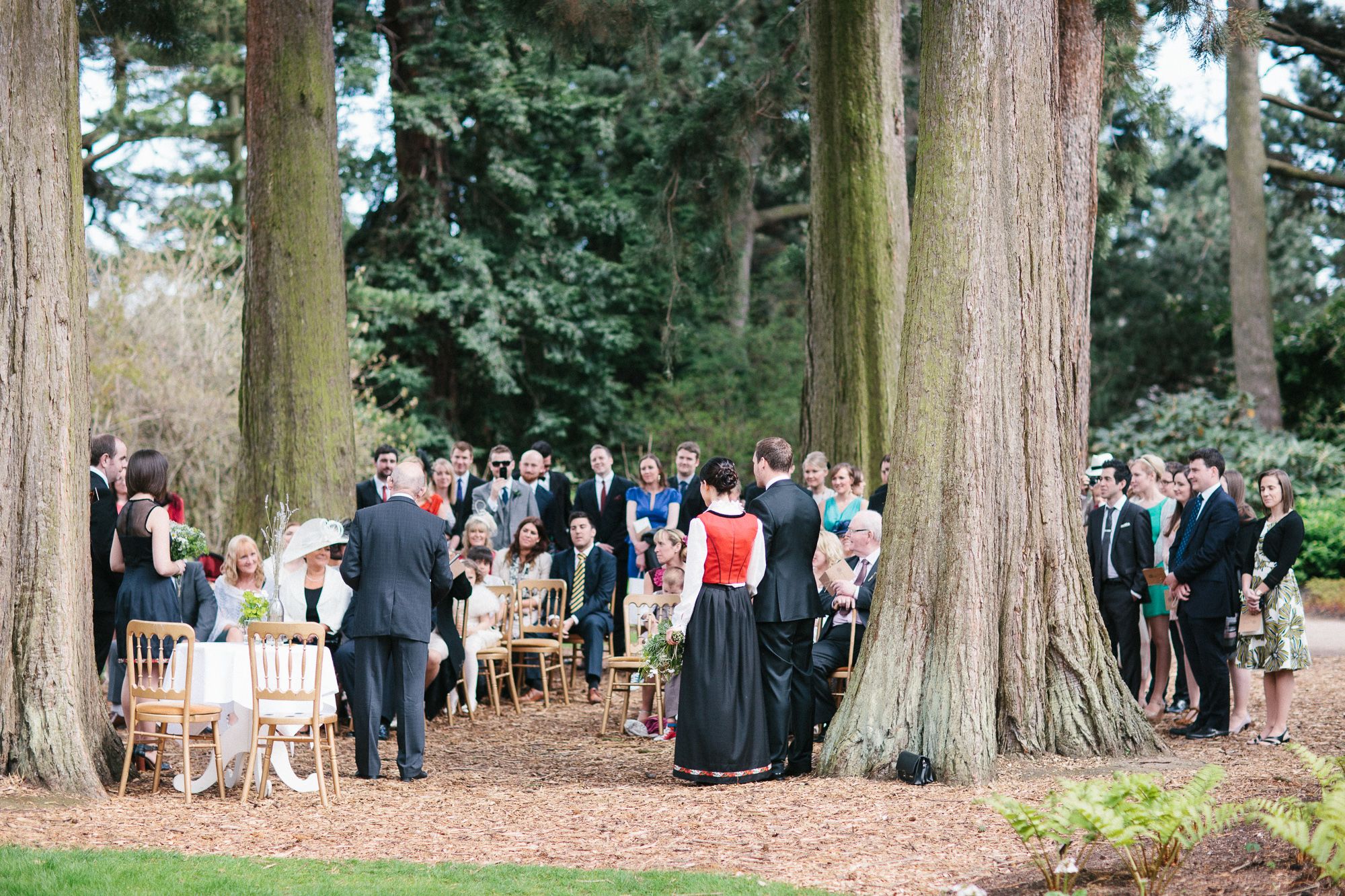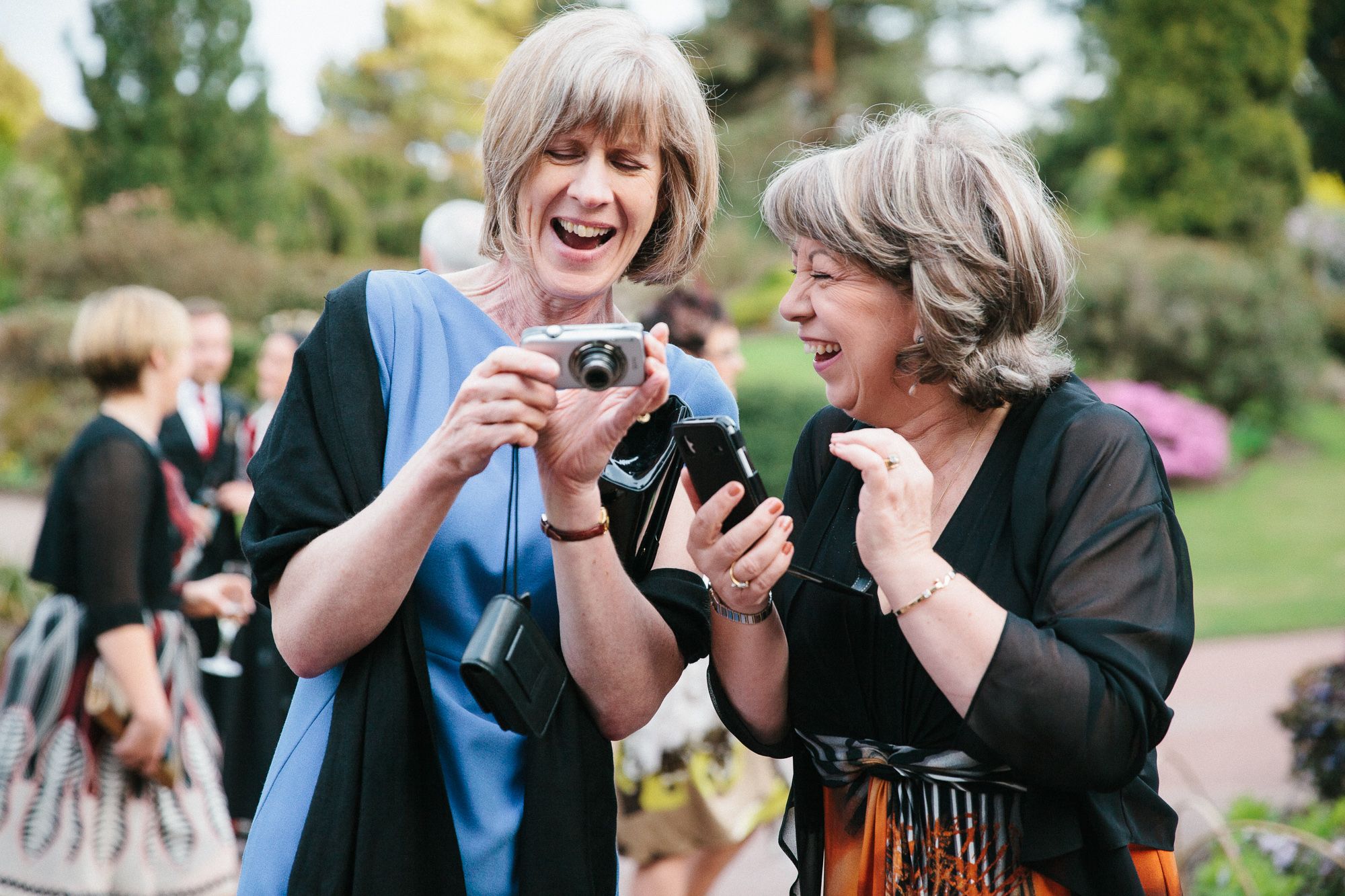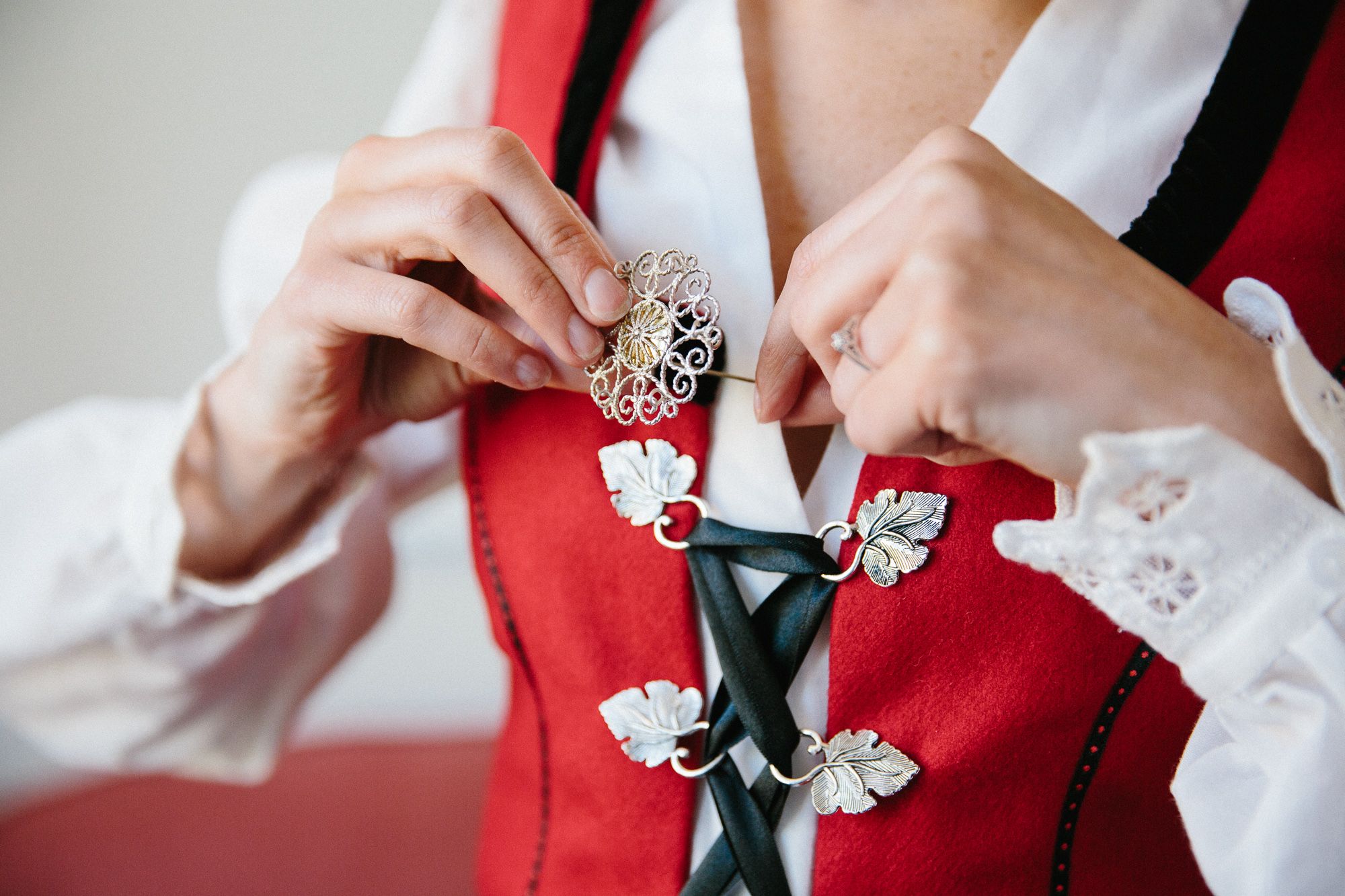 Only a Botanic Garden wedding can exhibit a wedding venue with a room which floors soft carpet made of bark pieces, its pillars are giant redwood trees, its walls are rhododendron bushes and its windows the open sky itself. The humanist ceremony at the John Muir Grove was informal and joyful, after which the wedding party walked to The Caledonian Hall for the reception drinks. On the tables, amongst flowers and strawberries in clip-on jars, there was a mini bottle of Linie Aquavit for each guest. Aquavit is a traditional Scandinavian flavoured spirit. It is very strong, I can testify.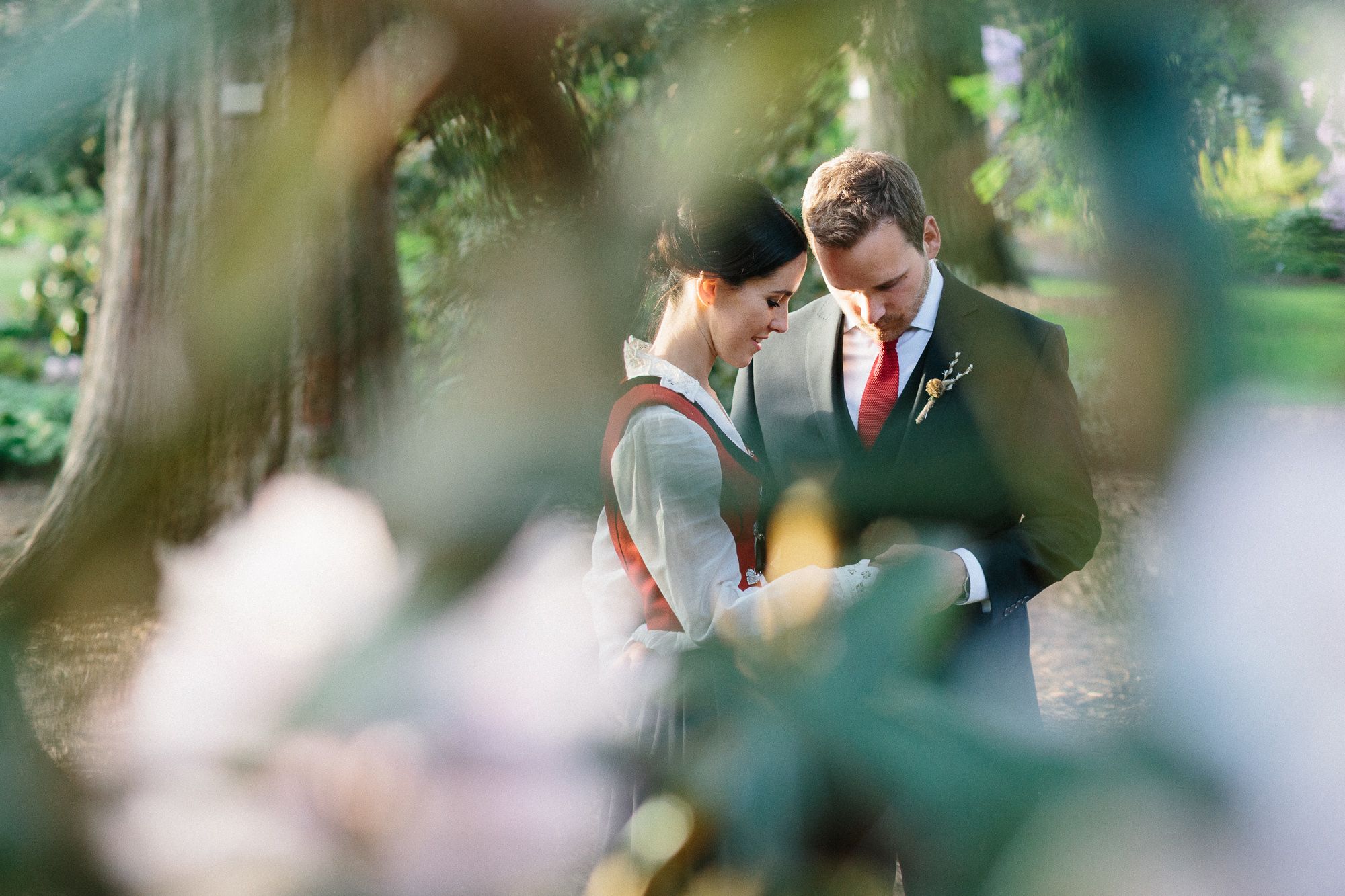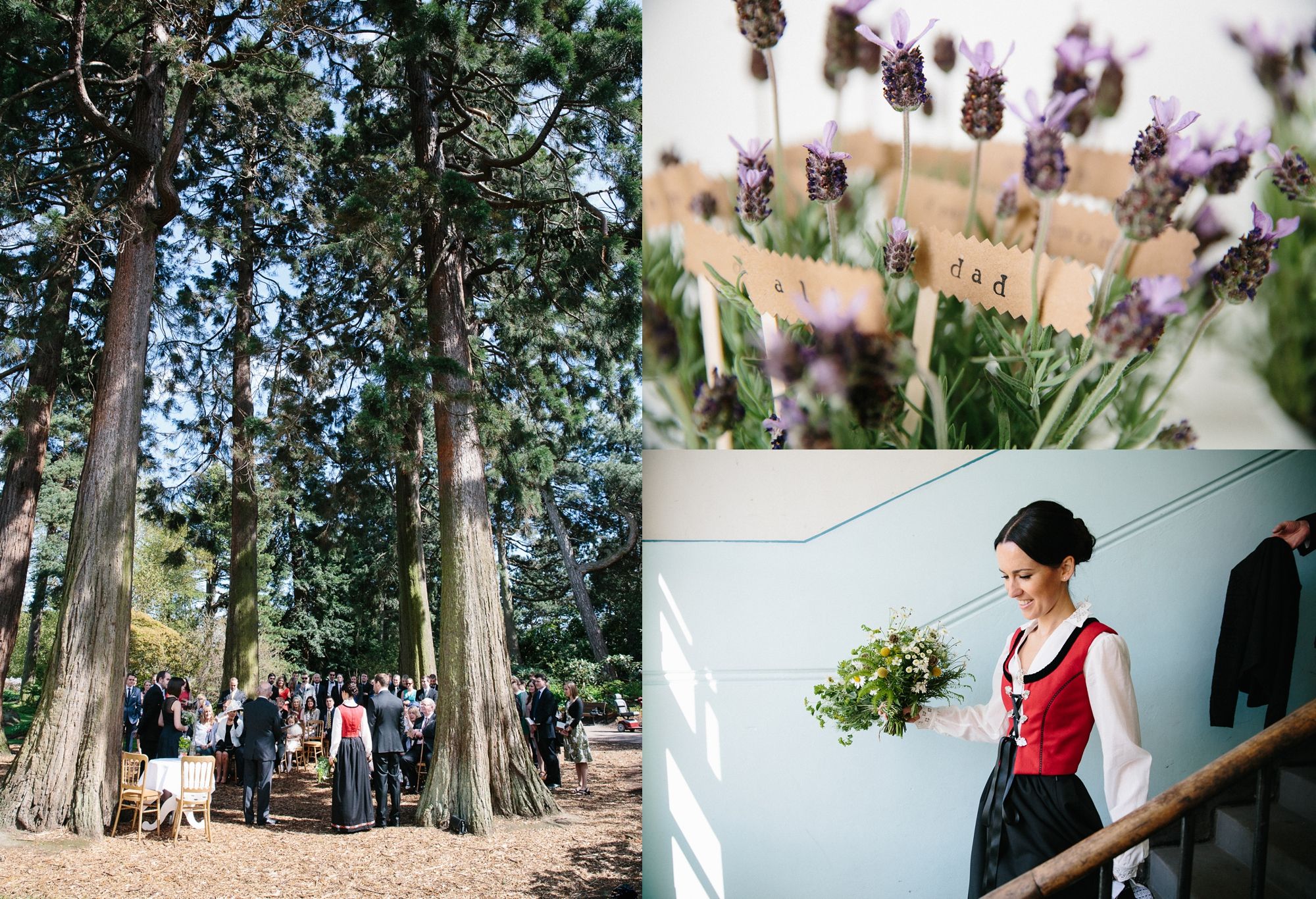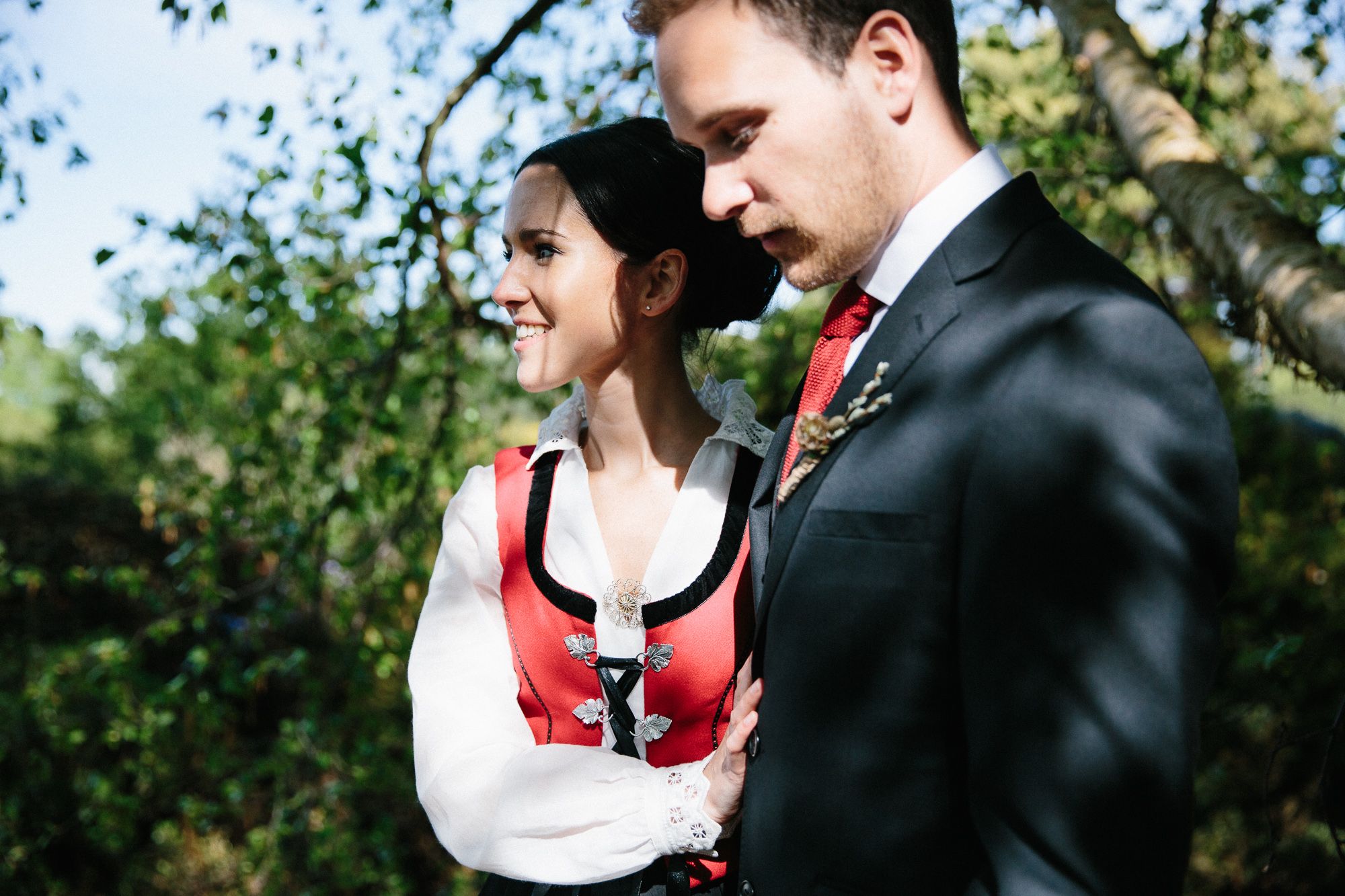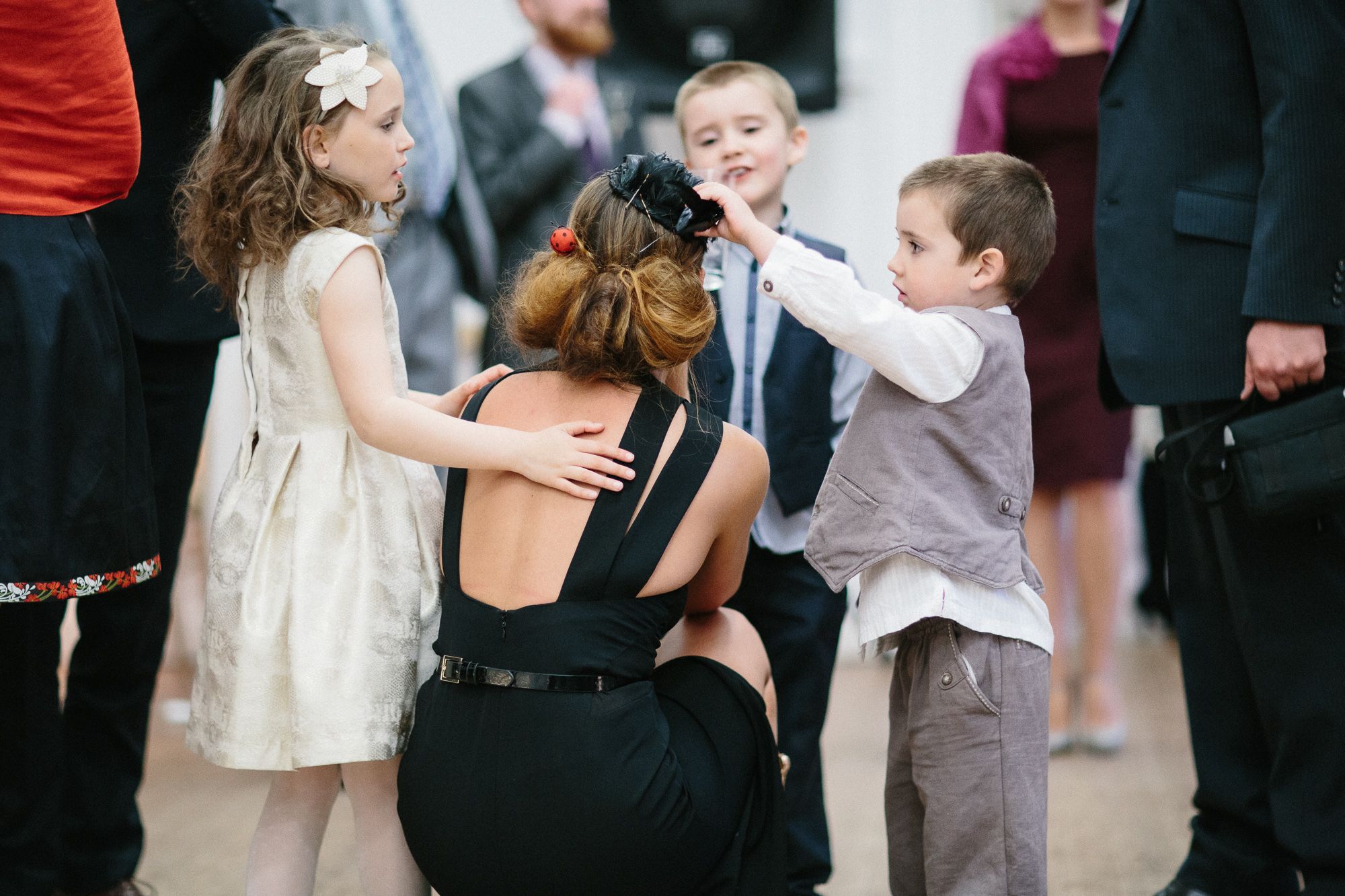 While children were running around all day long drawing my attention quite often, people took polaroid photos of themselves and stick them in an album with notes and wishes for Isa and Colin. Formal shots were taken in a flash in gorgeous sunshine and photos of the couple later on in the evening in the lovely warm late afternoon light. Additional guests arrived for the evening reception and the celebration was made complete by some craziness on the dance floor.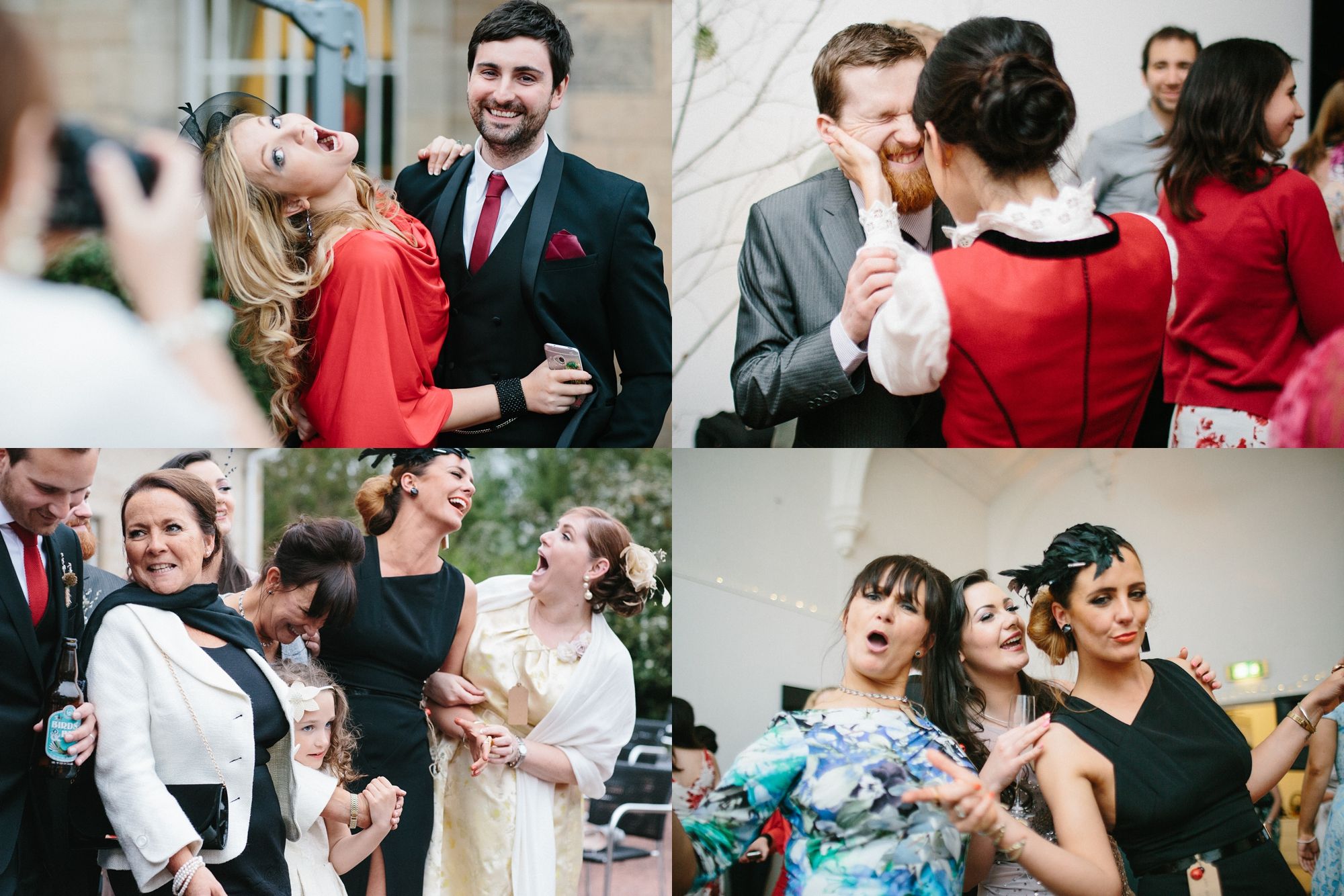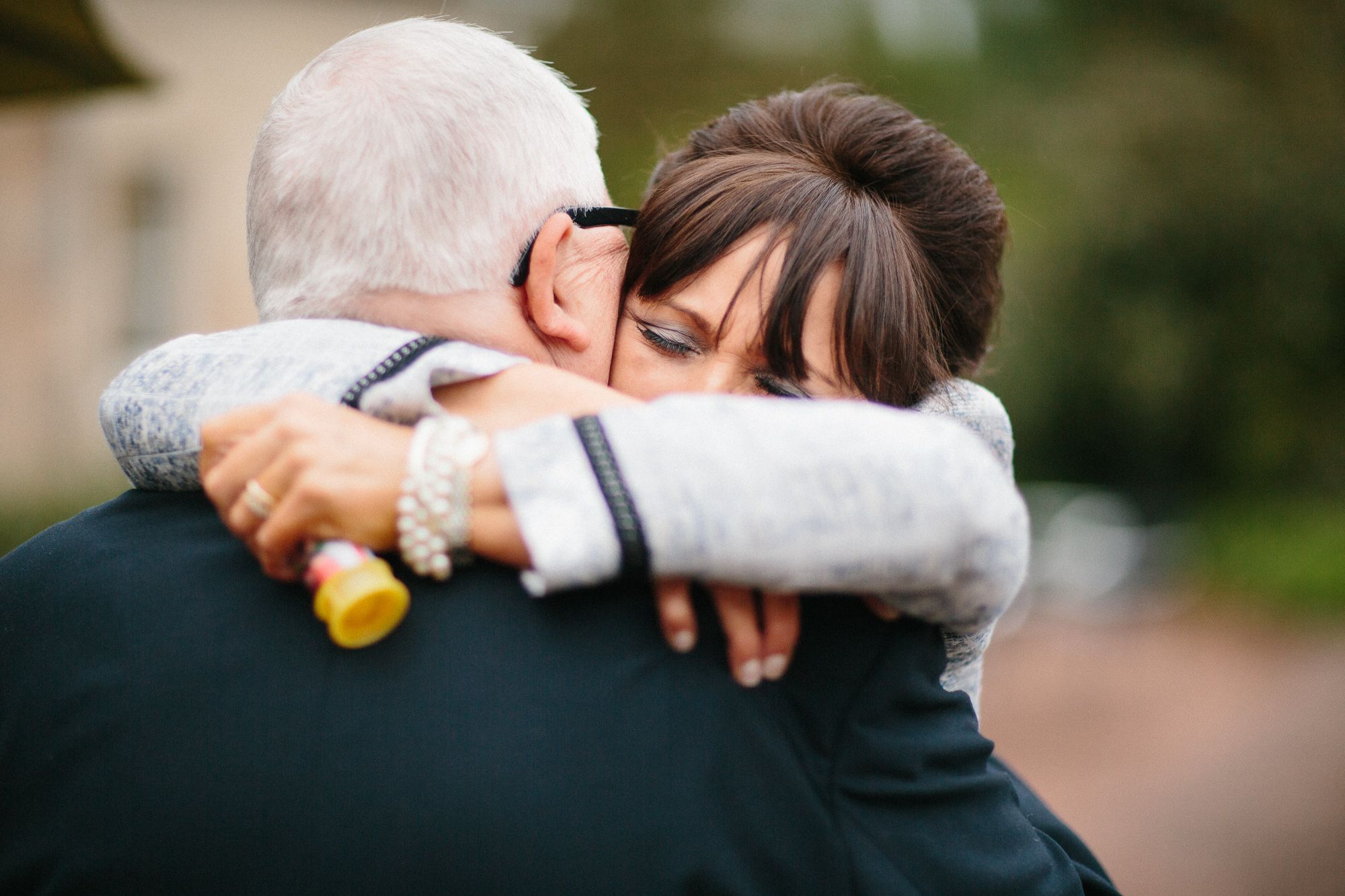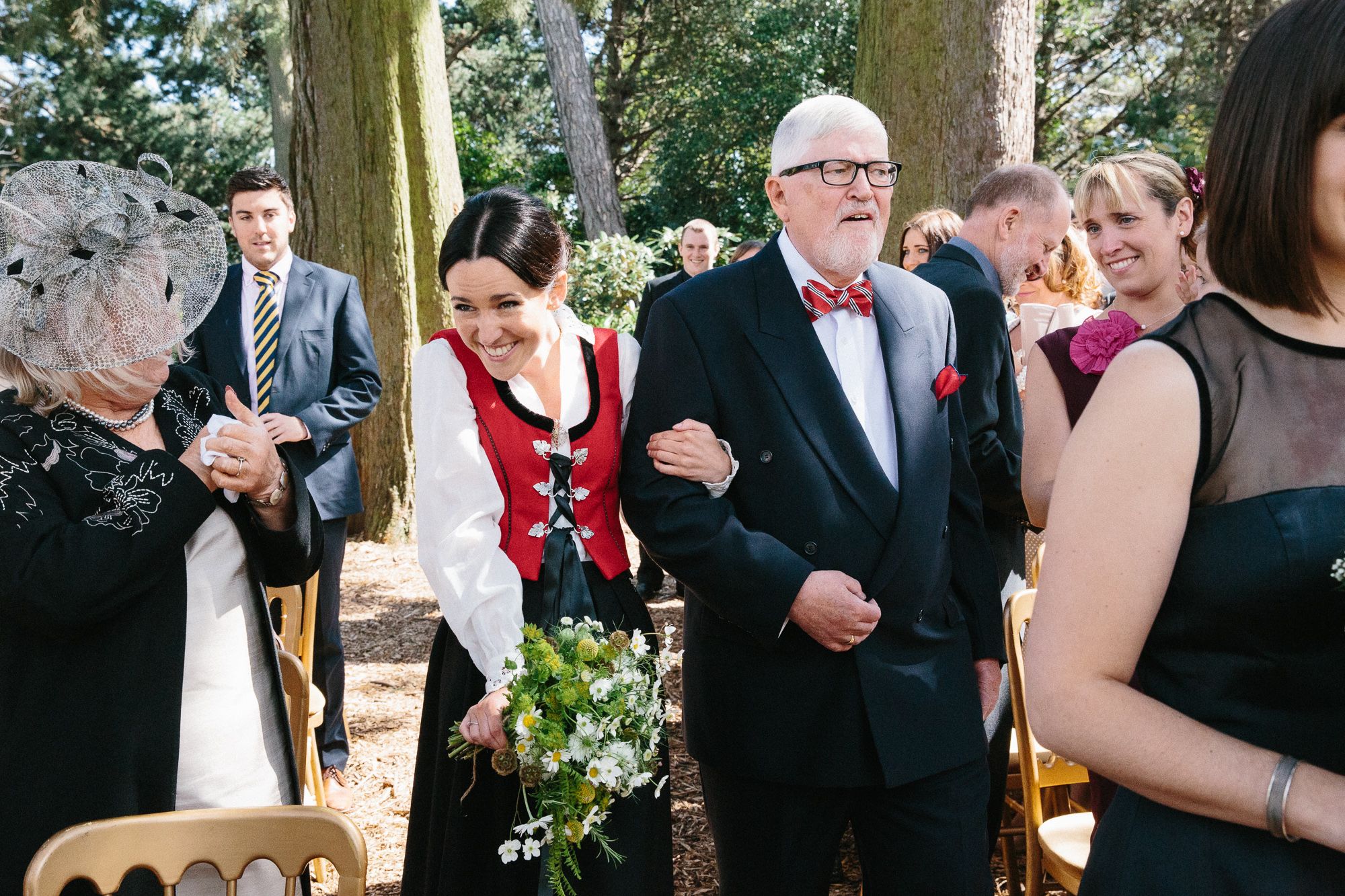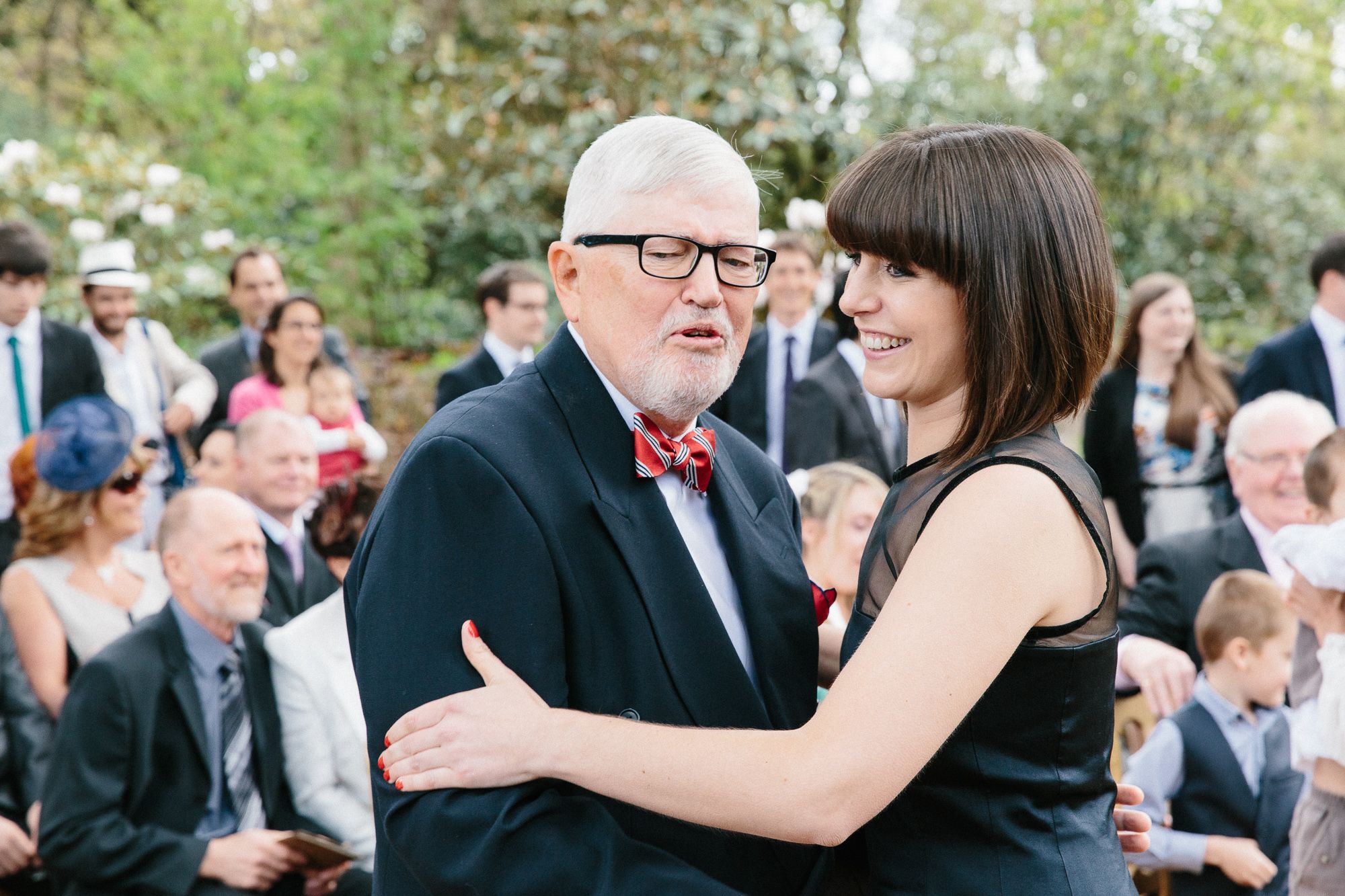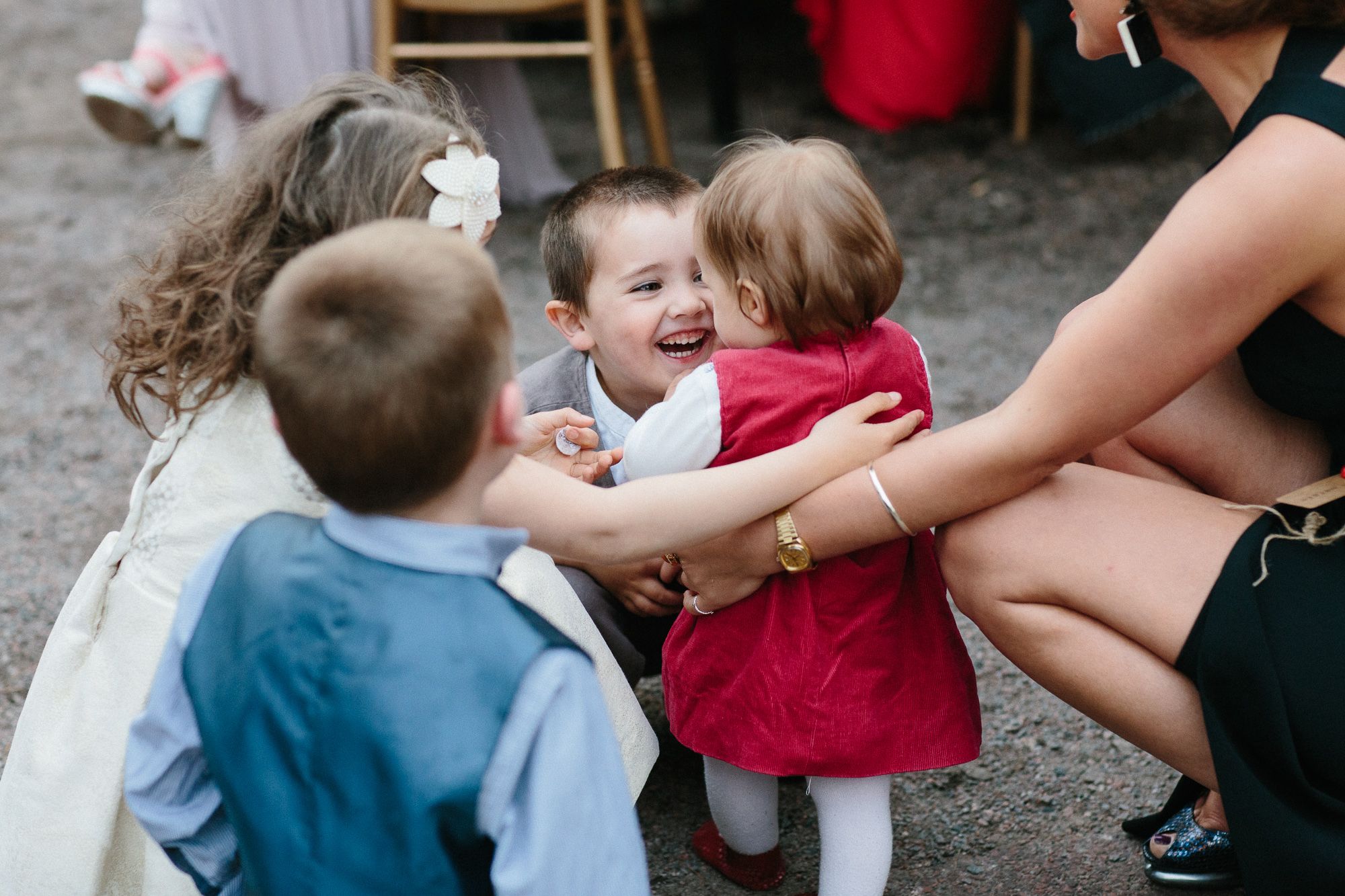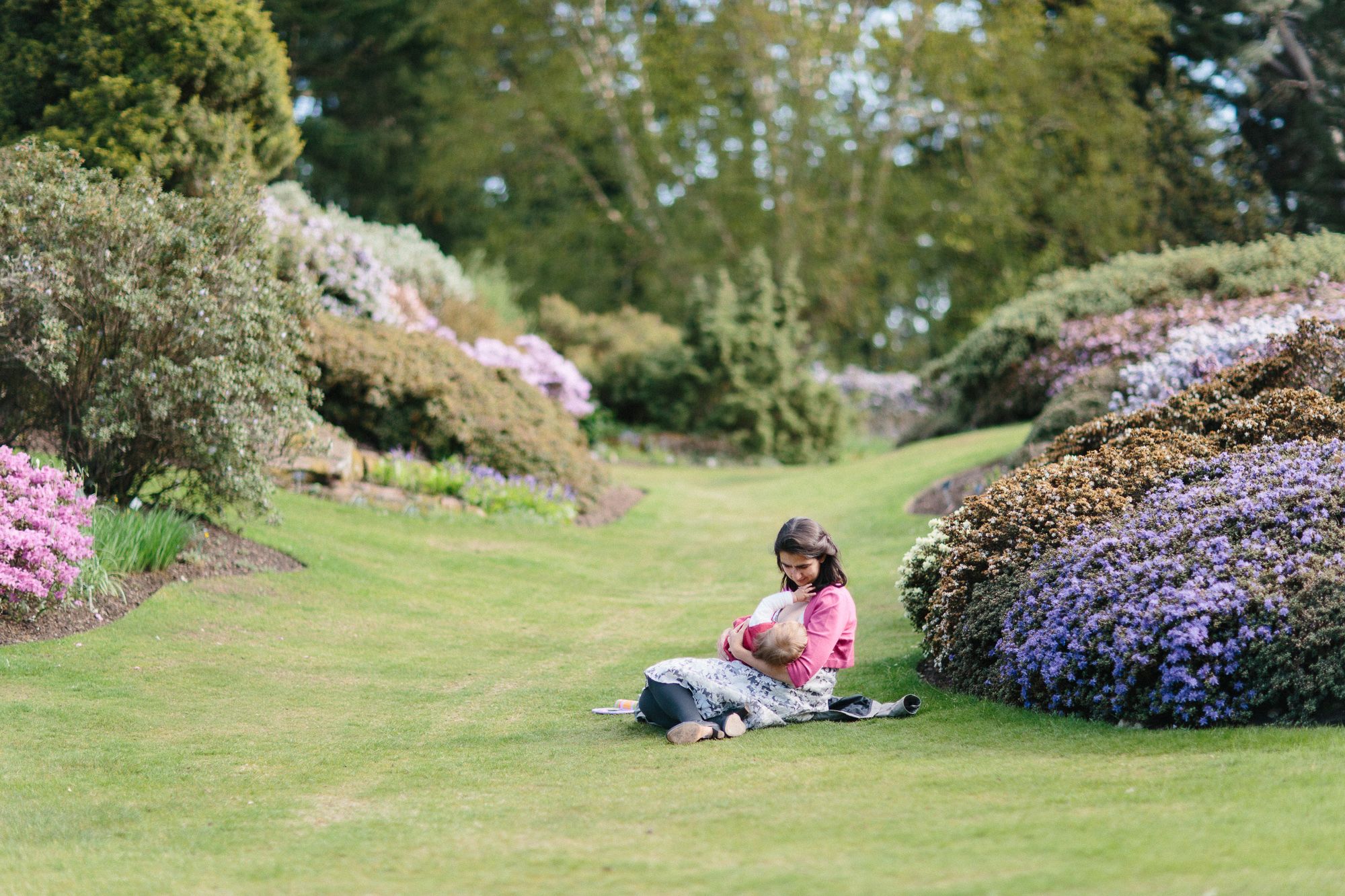 Isa and Colin – Royal Botanic Garden Wedding
Style: Reportage wedding photography
Bridal preparation: Stockbridge, Edinburgh
Wedding ceremony: Royal Botanic Garden, Edinburgh
Wedding reception: The Caledonian Hall, Royal Botanic Garden, Edinburgh